Tsuchida , which has served as a bridge between manufacturers and users over half a century, dealing in a wide range of products essential to heavy industry, receives high praise from many companies as a specialist trading company that is technologically savvy.
As a company that was founded half a century ago, we are continuing to strive in specialist areas and making further efforts to meet customer demands by providing the best as a "company that fits customers".

Supplying quality that fits customer needs.
The expression we use, "the best quality" does not mean quality that is evaluated from the standpoint of manufacturing or sales, but it means quality that could be stated as the "best" according to the standard of evaluation from the customer's viewpoint. Our sales staff with a wealth of knowledge accurately grasp the customer's requirements and choose products for the purpose of fully satisfying the quality and functions that are required.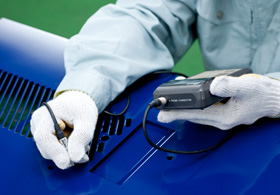 Meeting the delivery deadlines demanded by customers.
We believe that it is most important that we meet the deadline set out by the customer and we make our utmost effort to meet it. In order to smoothly distribute a vast range of products, we share information within the company and unify management. We fully acquaint ourselves with the manufacturing process, distribution system and product availability of each manufacturer, and have the system in place that enables us to deliver the required products in the required quantity on time as we have systemized the process from receiving orders to delivery.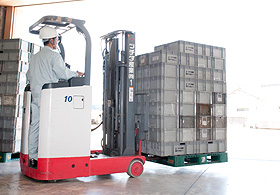 Providing services that fit various situations.
We not only respond to customer needs, but we actively put forward ideas to customers by fully considering what sort of products the customer is likely to require in the future based on years of experience and the latest information.
We not only provide advice on the latest technology and products, but also provide services that fit various business situations as well as receive orders and deliver products. We hope that you would utilize our "best services" supported by our continuous learning about technology and wealth of experience.